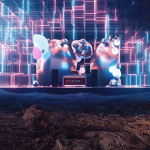 Redpill VR is a technology company focused on creating the future of music through groundbreaking interactive social experiences and content platform that connects us all through the power of music, creativity and art in stunning, high-end virtual reality.
At its core, Redpill is a virtual reality platform that enables unparalleled social interactivity, unlimited creativity, effortless distribution and robust monetization of consumer and developer-generated content through immersive virtual reality music experiences, events and venues.
AcceleratXR has partnered with RedPill VR to provide their revolutionary MMO platform as the foundation for RedPill's entire social music platform. Leveraging key features such as matchmaking, game server auto-scaling, our social system, achievements, leaderboards and more, RedPill VR is able to cut their production time by more than a year and development costs by several hundreds of thousands of dollars.